Quality Control
Quality control seems to be an unavoidable topic before we have started working together. The following is Maxtech Manufacturing Company can be provide quality control standards. Maybe it's not perfect, Maxtech Manufacturing Company wants to build a more reasonable and stable quality system through our discussion. Welcome customers to come and audit our productions and give suggestions for improvements.
(1) Extensive and professional quality control to ISO 9001-2008 (Download)
(2) Materials Report: Material Chemical Composition, Tensile/Compression Strength and Surface Hardness
(3) Coating Report: Galvanizing Thickness, Power Coating Thickness, and Salt Spray Test for Corrosion
(4) Welding Report: Ultrasound Test for Welding Quality (NDT Testing)
(5) Final Inspection Report
(6) Third Party Testing and Report
Metal Fabrication Workshop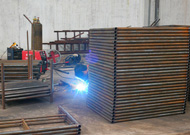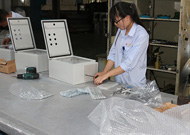 Production Process Control and Improvement:
(1) Our engineers will do process quality inspection with during the manufacturing process to avoid delays in delivery, and ensure the stability of product quality.
(2) Sample Confirmation: We will offer a sample to you to approved quality. We look forward to receiving any detailed feedback on product quality to be improved products, like the problem tolerance, welding, coating, printing, assembly, packaging, shipping time and more. When your confirmation the sample, we will then move forward to mass production. We cherish this opportunity and your trust.
(3) We do final quality inspection before the shipment, that will be ensure the final products quality.
Quality Goal:
(1) For new samples and products, one-time pass rate should be 90% at least.
(2) For mature products, pass rate should be greater than 98%.
(3) Timely delivery of products should be 95%.
(4) Stick to continuous improvement for satisfaction of customers should be 95% at least.
(5) We also welcome customers to come and audit our productions and give suggestions for improvements.