Home
» Sheet Metal Rolling
Sheet Metal Rolling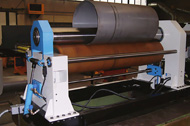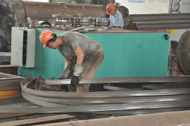 The sheet metal rolling is a metal forming process in sheet metal fabrication. It's used one or more pairs of rolls to to achieve the curved effect of metal plate. Usually the rolling processing need collocation the other manufacturing processes to produce the finished product, such as cutting, bending, drilling, welding and surface finishing. It is widely used in manufacturing to tank, cylinder, cover, protector and so on. The rolling processing is a roughing method, so the product quality depends on the worker production experience and equipment performance. Maxtech has 15 years of production experience and our workers have an average production experience of more than 3 years. That will be ensure to tolerances can be meet the requirements of the drawings.
The Common Materials for Sheet Metal Rolling:
Steel Plate, Stainless Steel Plate, Aluminum Plate, Copper Plate, Brass Plate
In addition to sheet metal rolling, we can also provide cutting, bending, welding, assembly, surface finishing and packaging service. Feel free to contact us for more details.
The other value-added service as follows:
1. Hole Drilling, Grinding, Machining, Riveting
2. Metal Sheet Cutting, Bending and Stamping
3. Welding Service: SMAW, GTAW, GMAW, TIG, MIG/MAG
4. Heat Treatment
5. Surface Finishing
(1) Buffing and Polishing (Metal Mirror Polished, Brushed Metal Finishing)
(2) Sandblasting, Pickling and Phosphating
(3) Powder Coating, Anodizing, Zinc Plating, Hot Dip Galvanized, Chrome Plating and Nickel Plating
(4) Assembly
We also provide others value-added services, such as design for manufacturability, technology support, quick-turn prototyping, machining and tooling make in-house and more. Contac us now to get more information for steel plate rolling service.