Home
» Tube Welding Fabrication
Tube Welding Fabrication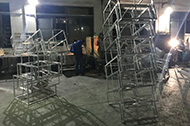 We provides a flexible affordable tube welding fabrication solution for different materials and applications. We familiar with the industry and market of metal fabrication from our 15 years of manufacturing experience. Our development & design department can provide custom service of design and package to your exact specifications. If you have a custom request, we are gladly to offer a competitive quotation. Please send Email to us get more detail, and welcome to visit in China.
The Common Materials for Tube Welding Fabrication:
Steel Tube/Rod, Stainless Steel Tube/Rod, Aluminum Tube/Rod, Copper and Brass Tube/Rod
Shape Type: Round, Square, Rectangular, Hexagon, Oval
In addition to metal fabrication, we can also provide cutting, bending, welding, assembly, surface finishing and packaging service. Feel free to contact us for more details.
The other value-added service as follows:
1. Hole Drilling, Grinding, Machining, Riveting
2. Cutting, Bending, Metal Stamping and CNC Punching
3. Welding Service: SMAW, GTAW, GMAW, TIG, MIG/MAG
4. Heat Treatment
5. Surface Finishing
(1) Buffing and Polishing (Metal Mirror Polished, Brushed Metal Finishing)
(2) Sandblasting, Pickling and Phosphating
(3) Powder Coating, Anodizing, Zinc Plating, Hot Dip Galvanized, Chrome Plating and Nickel Plating
(4) Assembly
We also provide others value-added services, such as design for manufacturability, technology support, quick-turn prototyping, machining and tooling make in-house and more. Contac us now to get more information for tube welding fabrication service.