Home
» Sheet Metal Laser Cutting
Sheet Metal Laser Cutting
Laser cutting in metal fabrication industry is applied for different kinds of materials where complex contours demand precise, fast and force-free processing. Lasers create narrow kerfs and thus achieve high-precision cuts. Laser cutting will not cause any distortion and mostly speaking, post-processing is unnecessary as the component is subject to only little heat input and can mostly be cut dross-free.
Laser cutting has lots of advantages over mechanical cutting, like easier workholding and reduced contamination of workpiece (since there is no cutting edge which can become contaminated by the material or contaminate the material). Precision will be much better because the laser beam does not wear during the process. And the the chance of warping the material that is being cut will be dramatically reduced, since laser system have a small heat-affected zone. Also, some materials are very difficult or impossible to cut by more traditional means.
Clean cut edges without burr or dust formation, fine contours cutting, cost-efficient for small-batch production are all benefits of laser cutting. Compared with plasma cutting, laser cutting also has lots of advantages, being more precise and using less energy when cutting sheet metal. Contact us now for more information or require a custom quote.
Steel Parts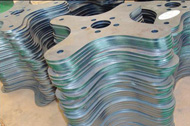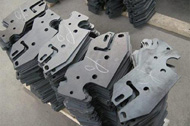 Stainless Steel Parts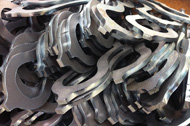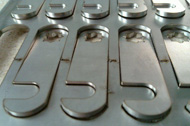 Aluminum and Copper Parts
Maximum Cutting Thickness for Different Materials:
Carbon Steel Sheet/Mild Steel Sheet: ≤20mm
Stailness Steel Sheet: ≤12mm
Aluminum Sheet: ≤6mm
Copper Sheet: ≤3mm
In addition to laser cutting service, we can also provide saw cutting, flame cutting, plasma cutting, water jet cutting, metal stamping and CNC punching service according to your requirements.
The other value-added service as follows:
1. Hole Drilling, Grinding, Machining, Riveting
2. Metal Sheet Rolling, Bending and Folding for Press Brake
3. Welding Service: SMAW, GTAW, GMAW, TIG, MIG/MAG
4. Heat Treatment
5. Surface Finishing
(1) Buffing and Polishing (Metal Mirror Polished, Brushed Metal Finishing)
(2) Sandblasting, Pickling and Phosphating
(3) Powder Coating, Anodizing, Zinc Plating, Hot Dip Galvanized, Chrome Plating and Nickel Plating
(4) Assembly
If you are looking for a Chinese laser cutting factory, Maxtech will be your ideal partner. We manufacturing burr-free and strict tolerances metal parts by shear, sawing, plasma cutting, laser cutting, waterjet cutting, metal stamping and CNC punching. And we have 15 years of experience in custom metal cutting, metal polishing, precision machining and surface treatment metal parts. Our experience and manufacturing capabilities provide the skills and capacity to meet the various needs of customers. All these and more are the requirements we achieve every day for products shipped worldwide.
We provide the processing method of metal cutting with shear and cutting without shear according to your requirement. Usually we determine the final production process according to the material, order quantity, tolerance, products size and flatness request. For example, more than 6mm aluminum sheet and 3mm the copper sheet can be not suitable for laser cutting. The stamping process have a pre-period mold cost, so it's suitable for bulk and stable orders. The water cutting have a low cutting efficiency, so it is not suitable for delivery urgent orders. Contact us today to require a custom quote on any project you may have. Fair and competitive prices are always available.